<![if !vml]>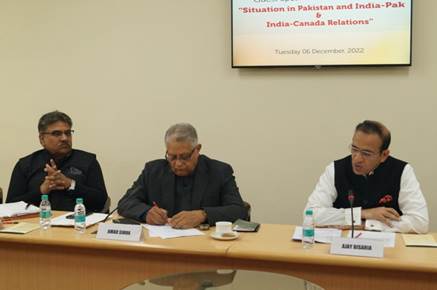 <![endif]>
Ever since its launch in February 2006, Indian Foreign Affairs Journal, a peer reviewed quarterly publication of the Association of Indian Diplomats has become an intellectually satisfying and analytically enriching forum for the examination of relevant but sensitive and complex issues of India's foreign policy and relations.
Such examination is undertaken by experienced decision makers, serious scholars and seasoned commentators. The Journal remains true to its  credo, publishing authors of widely divergent views, and at the same time, searching for unifying themes and ......
Vol. 11, No. 1    -    Jan - Mar 2016
---
DEBATE
India-China Relations: Recent Developments
4 - 5 policy analysts and experts are being invited to comment. The concept note and the views of these experts will be published as the 'Debate
ARTICLES
Emerging Dimensions of India's Relations with Mongolia: From Comprehensive to Strategic Partnership
Emerging synergy in India – Japan Relations
India and Multilateral Diplomacy
Emerging contours of Space Security - India's options
BOOK REVIEWS
India--Myanmar Relations: Changing Contours by Rajiv Bhatia, - (Pre-Print Advance Copy)
India and the Oceania: Exploring Vistas for Cooperation by Pankaj Jha
Diplomatic Dimension of Maritime Challenges for India in the 21st Century by Yogendra Kumar,
India-China Relations in the Contemporary Era Opportunities, Obstacles and Outlooks by Annupurna Nautiyal / Chintamani Mahapatra (ed.),
Published in Volume 10, 2015
Attack on Ambassador T. P. Sreenivasan,
<![if !vml]>
<![endif]>The Association of Indian Diplomats is shocked by, and strongly condemns, the totally unprovoked violent attack on one of its distinguished members,  Ambassador T. P. Sreenivasan, on 29th January 2016.
We express our solidarity with Ambassador Sreenivasan and request the concerned authorities to uphold the law and take appropriate action against the perpetrators of the attack at the earliest.
New Delhi, 30 January 2016
About Us
The Association of Indian Diplomats, a gathering of former Ambassadors / High Commissioners of India, was formed in November 1980 by a group of retired ambassadors, High Commissioners and Secretaries to the Government of India in the Ministry of External Affairs and was registered in 1981 at New Delhi under the Societies Registration Act of 1960.
<![if !vml]><![endif]>

From the Current issue
Vol. 10, No. 4  - Oct - Dec 2015

Debate

External Interventions and Internal Instability in West Asia: Implications for India

<![if !vml]><![endif]>Full Text of Debate (and Book Reviews)

Download Current/Past issues of the Journal

                                  

Oral History Narratives

Oral History Narratives are accounts of  a tête-à-tête with senior and highly experienced policy makers who have made decisive contributions in the evolution of Indian Foreign Policy and its challenging issues.

 The Journal has so far published 32 Oral History Narratives and work is in hand to compile and re-publish these accounts in a book form. Pending publication of the book, and in deference to demand from scholars, a part e-compilation has been uploaded.

<![if !vml]><![endif]>

including 2 narratives uploaded

on 3 Feb 2016
Forthcoming Event
<![if !vml]>

<![endif]>26 Feb 2016 at 11.00 A.M: at the Conference Room of the Indian Council of World Affairs, Sapru House, Barakhamba Road, New Delhi –110001.
Panel discussion: Ambassador Ashok Kantha: "China today, its internal dynamics, its external posture and relations with India"; followed by Ambassador T C A Raghavan – "China's role in ​P​akistan, Afghanistan and Iran"
(Open to Members, spouses and Guest members only)
Recent Events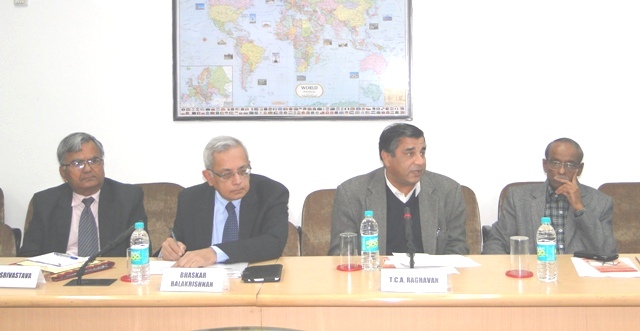 28 Jan, 2016: Ambassador T. C. A. Raghavan, till recently High Commissioner of India to Pakistan spoke on "Pakistan: Recent Developments"
<![if !vml]>

<![endif]>
18 Dec 2015: Panel discussion on "Asian Security Architecture - Trends and Dynamics" with Ambassador Shiv Shankar Menon as lead speaker, followed by Ambassador Eric Gonsalves and Ambassador Sanjay Singh.
<![if !vml]>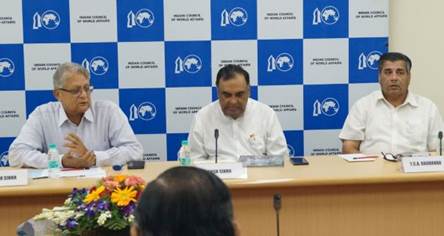 <![endif]>
4 Nov 2015: Maj Gen PJS Sandhu (Retd), Deputy Director & Editor, United Services Institution of India (USI) spoke on "1962 – A View from the Other Side of the Hill".
---