<![if !vml]>
<![endif]>
Ever since its launch in February 2006, Indian Foreign Affairs Journal, a peer reviewed quarterly publication of the Association of Indian Diplomats has become an intellectually satisfying and analytically enriching forum for the examination of relevant but sensitive and complex issues of India's foreign policy and relations. Such examination is undertaken by experienced decision makers, serious scholars and seasoned commentators.
The Journal remains true to its credo, publishing authors of widely divergent views, and at the same time, searching for unifying themes and principles in an era where these are especially hard to find. The Journal is thus filling a long-standing gap in the availability of insightful and credible literature in the field.
Besides in-depth scholarly and policy oriented articles, each issue of the Journal presents a Debate on one of the contemporary and contentious aspects of India's foreign policy.
In addition, the Journal includes a special and unique section which brings out and preserves in  print, the hitherto unknown aspects of India's diplomatic ... ...
Current Issue
Indian Foreign Affairs Journal
Vol. 14, No. 1  - Jan-Mar  2019
Debate
India-Sri Lanka Relations: New Issues, New Perspectives
R. Hariharan
P. Sahadevan
Samatha Mallempati
Nitin A. Gokhale
N. Manoharan
D. Suba Chandran
Gulbin Sultana
Jayanath Colombage
Articles
Vivek Mishra
Looming US Retreat under Trump: Implications for Asian Security
Book Reviews
B. S. Prakash
'How India Manages its National Security' by Arvind Gupta
Neelam D. Sabharwal
'Legitimacy of Power: The Permanence of Five in the Security Council' by Dilip Sinha
Teshu Singh
'The China-India Rivalry in the Globalization Era' by T. V. Paul (Ed.)
COMPENDIUM OF CONTRIBUTIONS
Published in Volume 13, 2018
<![if !vml]>

<![endif]>
<![if !vml]>

<![endif]>5 Nov 2019.: Lt Gen (Retd) SL Narasimhan, Member of National Security Advisory Board (NSAB), Director General, Centre for Contemporary China Studies, and, Distinguished Fellow at Centre for Air Power Studies, will speak on "Wuhan Spirit to Chennai Connect" 
Past Issue
Indian Foreign Affairs Journal
Vol. 13, No. 4  - Oct - Dec 2018
Debate
India - Bangladesh Relations
In the Context of Recent Elections in Bangladesh
Pinak Ranjan Chakravarty
Ashish Shukla
Anand Kumar
Sreeradha Datta
Aparupa Bhattacherjee
Joyeeta Bhattacharjee
Smruti S Pattanaik
Articles
Shreya Upadhyay
India's Response to Disasters and Humanitarian Assistance in South Asia
Asoke Kumar Mukerji
The Impact of Multilateralism on India
Book Reviews
Bhaswati Mukherjee
'Delusional Politics 'by  Hardeep Singh Puri
Ankita Dutta
'Indian Foreign Policy' by Sumit Ganguly
Kanwal Sibal
'India and EU: An Insider's View' by  Bhaswati Mukherjee
<![if !vml]>

<![endif]>
<![if !vml]>

<![endif]>
12 Sep, 2019:  Air Chief Marshal Birender Singh Dhanoa, PVSM, AVSM,  YSM, VM, ADC spoke on  `Role of Indian Air Force in National Security`.
_______________________________________
<![if !vml]>

<![endif]>
16 May, 2019: Presentation of the  Ambassador Bimal Sanyal Memorial Medal / Prize by Smt. Sushma Swaraj, Hon'ble Minister for External Affairs
_______________________________________
<![if !vml]>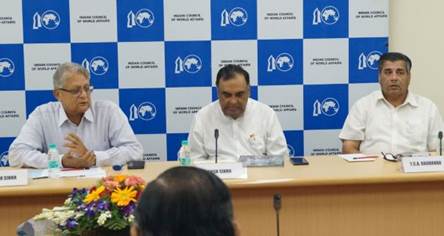 <![endif]>
2 May 2019.:  General Bipin Rawat, UYSM, AVSM, YSM, SM, VSM, ADC, Chief of Army Staff  was  the Guest Speaker. He spoke on "India's Security Environment'